Relishes for Tourtiere
By Juliana L'Heureux
Back to Juliana's Writings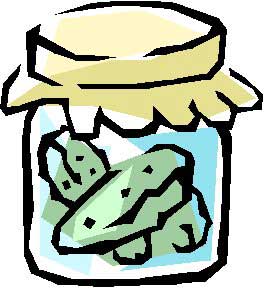 Food connoisseurs Julia Child and Martha Stewart obviously haven't been writing or talking about it yet, but they ought to tout homemade Franco-American relish and pickle recipes. Spicy side relishes and flavorful pickles are just fabulous served with Franco-American tourtiere. Although Franco-Americans enjoy almost any vinegar-based side dish alongside the traditional tourtiere (pork pie), the practice of serving several different kinds of relishes with the spicy meat pie as a centerpiece is entirely modern. In the past, tourtiere was served after Midnight Mass, very early on Christmas morning. Today, Franco-Americans serve tourtiere at family reunions, on Thanksgiving as well as during Les Fetes (Christmas and New Years).
Every year, my husband and I look for new relish recipes for the purpose of enhancing our tourtiere. We broke the tradition of serving tourtiere exclusively on Christmas Eve many years ago because our busy family is more likely to be together for Thanksgiving these days. Over the years, we expanded our relish varieties to accompany tourtiere, which we serve as an appetizer before the traditional Thanksgiving turkey dinner. It's "ho-hum" tradition to serve ketchup with tourtiere, but in fact, almost any kind of relish, pickle or chutney tastes wonderful with tourtiere. Even red pepper jelly enhances the taste of tourtiere.
Last year, our new recipe addition was named "Pears and Tears Relish 2001". The name for the spicy pear fruit relish came about because we were up to our elbows in the process of canning on September 11th, 2001, when a poet friend from Belfast suggested we name the relish to coincide with our emotions on that dreadful day.

This year, we found two pleasing green tomato pickle recipes to go with our standby favorite Green Tomato Relish. Our 2002 recipes are named "Green Tomato Tourtiere Pickles" and "Easy French Tourtiere Relish". Of course, the names as well as the ingredients are adaptations from other recipes we have refined by adding our own special ingredients. For example, we add garlic to all our relish recipes, whether or not the recipe calls for it. As a matter of fact, we also add garlic to the ground pork and beef ingredients in our tourtiere recipe as well (another modern adaptation). Traditional tourtiere recipe filling once called for adding chopped onions and mashed potatoes or crushed crackers to the ingredients, but most cooks today include garlic to the meat filling, too. So, serving a tourtiere hors d'oerves petit buffet is actually a small slice of crusted meat pie surrounded with small dollops of interesting relish, some celery sticks and ripe olives for condiments. Tourtiere relishes don't have to be exotic or difficult to make. Franco-American mothers commonly made plain Cucumber Pickles, a favorite because they're super easy. Just slice up the ends of the unused cucumbers after slicing them up in salads and store the remnants in sweet and sour brine made with vinegar, sugar and salt. This mixture requires no cooking but must be refrigerated. Also, I keep a clove of garlic in the bottom of the cucumber jar as well. Another new idea is adding a pretty red jalapeno pepper to the vinegar, giving the plain cucumbers a bright touch of color without adding any measurable flavor to the brine.
Here are two relish recipes from my ever growing collection.
Back to Top
---
Recipes
French Tourtiere Pickle Relish - By Juliana L'Heureux
8 cups chopped green tomatoes
1 sweet red pepper, chopped
1 green pepper, chopped
3 large onions, chopped
4 cups white vinegar
2 cups sugar
¼ cup pickling salt
1 ounce of celery seeds (about 5 tablespoons)

1 heaping teaspoon tumeric

1-ounce mustard seeds (about 2 1/2 tablespoons)

8 cups chopped cabbage
Note that the recipe can be cut in half
Jar garnish- one clove garlic and/or one hot chili pepper (optional)
Chop the tomatoes, peppers and onions finely. Drain.
Combine the chopped vegetables with the remaining ingredients except the cabbage.
Boil for 20 minutes. Let stand overnight.
The next morning, add the cabbage to the mixture.
Use clean jars, put one clove of garlic in each jar.
Pack mixture into clean, hot pint jars, leaving ½ inch of headspace. Seal.
Process for 10 minutes in a boiling water bath canner.
Pear-Pepper Relish - By Juliana L'Heureux
Adapted from "River Road Recipes" with a credit to the Late Mrs. J.M. Cadwallader, published by the Junior League of Baton Rouge, Inc., in Baton Rouge Louisiana. This recipe is adapted to accommodate the L'Heureux family tastes.
2 quarts pears (after they are peeled and ground)
1 quart of onion (about 2 pounds)
4 green bell peppers
1 red bell pepper
6 small dill pickles
1/3-1/2 cup salt (depending on taste for salt)

1 hot pepper

4 tablespoons sifted flour

1 cup sugar

1 tablespoon turmeric

3 tablespoons dry mustard

1 quart cider vinegar
Preparation
Grind the pears, peppers, onions and dill pickles in a food processor. Put about ¼ of the vegetable-fruit mixture in at a time, then empty the ground ingredients into a colander. It takes about 4-5 times of emptying but this will prevent the ingredients from becoming mushy.
Add salt to the ground ingredients in the colander and let stand for about ½ hour while preparing the boil. Let this mixture drain well.
Mix the dry ingredients and add some of the vinegar to make a smooth paste. Then add the rest of the vinegar to the paste.
Stir with a wire whisk and boil for five minutes.
Turn off the heat and add the ground pears, peppers, onions and pickles.
Let stand for 3-5 minutes.
Pour into sterilized pint sized jars while hot.
Makes about 6 pints of relish.

Back to Top
---
Copyright 1994-2002, Portland Press Herald, Portland, Maine and Juliana L'Heureux