Pork Delicacies - With Recipes
By Juliana L'Heureux
Back to Juliana's Writings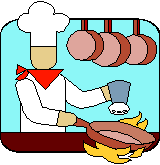 Summertime family reunions bring Franco-Americans together to enjoy their favorite ethnic foods loaded with pork. Families share recipes for calorie rich delicacies like cretons (pork paté), tourtière (pork pie), boudin rouge (blood sausage), fromage de tète de cochon (hogshead cheese), gras de porc (fat pork) and potat brun (roast pork with potato). Pigs contribute generously to these dietary specialties because practically every body part of the animal is used to create these old fashioned Franco-American recipes.
Fromage de tete de cochon is made using almost the entire head of the slaughtered pig. Although several European cultures claim variations of hogs head recipes, cinnamon and cloves seasonings are the hallmark of the Franco-American version.
Every year, Pépère (grandfather) went to the local boucherie, the slaughtering and butchering place for hogs. At la boucherie, the blood of the slaughtered pig was saved to make the thick boudin rouge, but the head, the feet and the pork rumps were sold to families who used them in dozens of creative and flavorful recipes. A prize purchase from this visit to la boucherie was the hogs head.
Seeing a pig's head sitting in the kitchen sink, where it was placed face side up until the eatable parts were dissected for cooking, was a grotesque visual experience shared by almost every first generation Franco-American family. "It was not an appetizing site", says my husband who saw his father bring home "la tete de cochon" (a hog's head) at least once a year.
Aside from tourtière, the Franco-American pork recipes, the most popular pork recipe is "Cretons", or pork paté. They're likely as many creton recipes in existence as there are tourtière recipes, perhaps even more.
Essentially, a cretons recipe consists of about one pound of ground pork simmered for at least one hour in its own juice with finely chopped fresh onion, chopped garlic, salt and pepper to taste. After the pork is thoroughly cooked by simmering on the stove, cinnamon and cloves are added in equal amounts to taste. Simmer the mixture for an additional hour after the seasoning is added. Add more seasonings if necessary. Drain off excess liquid from the meat by placing the mixture in a steel colander. Place the cooked creton in several small containers and refrigerate. Serve creton cold as a spread for French bread or crackers. Creton is a good appetizer before a festive meal or served as a picnic snack.
Many Franco-American pork delicacies, like tourtière, tete de fromage, creton and ragout, are seasoned with salt, pepper, cinnamon, and cloves or allspice.
Another fatty variation of creton is "pate de porc gras" or "fat pork", made by cooking the entire fresh pork butt, topped with loads of chopped onions and garlic, simmered on the stove top until the juices become a gelatinous coating and the meat falls off the bones of the pork. "Pate de porc gras" is exceptional when served with French bread, but the fat content is extraordinary.
These recipes are nostalgic and excellent for special occasions, but are not especially healthy for routine eating.
Contact me for more Franco-American pork recipes.
---
Favorite French-Canadian Recipes
Les Recettes de Porc
Jambon au sirop d'érable (Ham with Maple Syrup)
One ham, about 7-8 pounds
¼ cup maple syrup
3 quarts of water or maple sap
Two cups raisins (optional)
One teaspoon dry mustard
Two teaspoons ground cloves or 10 whole cloves
¼ cup apple juice
One cup maple sugar
This is a great recipe for an inexpensive and large cut of ham.
Stick the cloves into the ham if using whole cloves.
Pour water and maple syrup into a roasting pan. Simmer for three to four hours until the ham is tender.
Remove the excess rind and juices.
In a bowl, mix together the maple sugar, ground cloves and the dry mustard in the ¼ cup of apple juice. Pour over the ham. Add a cup of cooking juice and the raisins (if used). Bake at 300 degrees for 30 to 40 minutes, basting occasionally and adding liquid if necessary. Serve hot or cold.
Ragoût de boulettes (Meatball Stew)
3/4 cup finely chopped onion
1 T. fat (like Crisco)
2 pounds ground pork
1/2 tsp. cinnamon
1/2 tsp. nutmeg
1/8 tsp. ground cloves
1 tsp. salt
1/4 tsp. pepper
6 cups stock (pork bones or hocks)
3/4 cup browned flour*
In a large skillet
Sauté onion in fat until transparent (about 5 minutes).
Mix with pork and seasonings.
Shape meat mixture in balls about 1 1/2 inches in diameter.
Drop into boiling stock and simmer 1 1/2 hours.
Gradually sprinkle in browned flour, stirring until smooth and thickened.
Makes 6 servings.

*To make browned flour:
Spread a thin layer of flour in heavy pan and place over low heat or in oven (350° to 400° F). Stir occasionally until flour takes on an even tan color.
Or you can find it at (some) local supermarkets in Quebec.
Rôti de Porc à la Canadienne (Canadian Roast Pork)
4 lbs. pork shoulder
3-4 cloves of garlic
Salt and pepper
2 medium onions, quartered
1/4 cup water
Potatoes, carrots, turnip to be added 1 hour before meat is done
To prepare
Make several slits in meat and insert slivers of garlic.
Brown meat in heavy pan, sprinkle with salt and pepper.
Add onions and water. Cover and cook gently on top of stove until well done (about 3 1/2 hours), turning occasionally.
If necessary, add a little more water during cooking to avoid sticking.
A pork roast worth remembering! Makes 8 servings.
Graisse de Rôti
After removing roast from pan, add 1-cup water to drippings. Bring to boil, scrape brown drippings from bottom of pan and stir constantly until well blended. Simmer 2 to 3 minutes. Pour into small bowl and chill until firm. Serve as a spread on bread. Best when cooked in an old-fashioned iron pot.
Huguette Davis' Franco-American Creton (*)
Two pounds ground pork to finish the Creton:
2-3 small cloves garlic, minced two tablespoons heavy cream
One small onion, finely chopped one egg
½ cup milk sprigs of parsley for garnish
Two tablespoons bread crumbs toast points or French bread for serving
Pinch of allspice
Salt and fresh black pepper
One slice country style white bread
Grind the pork very fine (or have your butcher do it for you).
Finely chop the onion and mince the garlic. Place the pork, onion, garlic, milk, bread crumbs, allspice and salt and pepper in ad double boiler and lay the slice of bread on top of the mixture. Cover the pan and cook over simmering water on medium heat for one to one and one have hours or until the pork is very tender, stirring from time to time. (Stir the bread in and it will thicken the Creton.)
Beat the cream and egg into the hot pork mixture. Puree the mixture in a blender or food processor. You may want to add a package of unflavored gelatin if desired. Spoon the mixture into a one-quart or decorative mold and chill for at least four hours or until firm.
To serve, un-mold the Creton onto a platter and garnish with sprigs of parsley. Serve as a spread with rounds of crusty French bread. Serves 6-8 people

(*) Huguette is a resident of Rumford, Maine
Jack Kerouac's Pâté de Porc Gras
2 pounds of ground Boston pork butt (with all the fat)
2 onions
2 garlics
1 teaspoon dry mustard
Simply immerse the ground pork butt till water just covers it, in pot, with onions & garlic chopped in, and salt and pepper, and dry mustard. Let simmer slowly (say, 5 hours). Spoon & level into bowls; chill bowls in ice box.

Next day, use as sandwich spread on crackers (preferably good French Bread)

From letter to Jacqueline Stephens, late December 1961,
Selected Letters: Jack Kerouac, 1957-1969.
L'Heureux Tourtière (From Rose Anne Morin L'Heureux)
½ pound of ground pork
½ pound ground beef
one medium onion
1-2 cloves garlic, minced
one medium potato, cooked and mashed without milk or butter
one teaspoon cinnamon
one teaspoon ground cloves
½ teaspoon allspice
pastry for one double crust nine inch pie
In a large bowl
Mix ground pork, beef, onion and garlic together (use hands if necessary).
Place in a saucepan and add about ½ cup water, salt and pepper to taste.
Add all the remaining spices, leave out the masked potato until the very end of cooking.
Cook over low heat, simmering for about two hours. Drain off fat.
Combine the meat mixture with the mashed potato.
Pour into a pie plate covered with the top crust for steam to escape.
Bake in a 375-400 F oven until the top of the pie is brown.
Serve warm or cold (room temperature) with a variety of sweet and tangy relishes
Tête à Fromage (Head Cheese)
One pig's head (to yield 1 and ½ pounds of cooked meat, cleaned)
1 and ¼ pounds of pork liver
2 and ½ pounds of fresh pork butt
Two medium onions
One carrot
Three cloves garlic
Two tablespoons butter
Salt and white pepper
Purchase a cleaned pig's head from a butcher. Rinse it thoroughly and place in a large pot with enough water to cover.
Add one of the onions and the carrot, peeled and chopped. Simmer until the meat is falling from the bones, at least two hours.
Remove the meat from the pot and allow to cool.
Remove the meat from the bone and weigh out the 1 and ½ pounds needed.
Meanwhile, dice the liver and pork butt. Season with salt and pepper and refrigerate for 12 hours.
Dice the remaining onion and garlic cloves and sauté in the butter.
Combine with all the other prepared ingredients and run the mixture through a grinding machine on medium grinding plate.
Place the ground mixture in a terrine with a tightly fitting cover.
Bake, covered for about 2 and ½ hours.
Refrigerate for 48 hours before serving. Serves 6
Back to Top

---
Published on August 24, 2000 (Without recipes)
Copyright 1999-2000, Portland Press Herald, Portland, Maine and Juliana L'Heureux