Le Petit Mangeur de Fleurs
A Book Review by Juliana L'Heureux
Back to Juliana's Reviews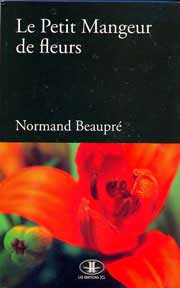 "Vouloir, c'est pouvoir" (Where there's a will, there's a way), is more than a proverb to University of New England humanities professor Norman Beaupre.
Beaupre dedicated seven years to writing two French language novels. Following some publishing set backs along the way, his autobiographic story "Le Petit Mangeur de Fleurs" (The Little Flower Eater) was recently published in Quebec.
Beaupre's novel describes his early years growing up in Biddeford.
"This publication is a real accomplishment", says Beaupre.
Following the publication of his novel, the French government invited Beaupre to a visit a village near Lyons, France where he discussed his writing with doctorate level teachers and representatives of the prestigious French (language) Academy. In France, it is rare to know an American who speaks and writes in French. Particularly, Beaupre's book is interesting to linguists because he writes in the French dialect he is accustomed to speaking. In other words, his narrative is written like the French spoken by Franco-Americans.
Recognition from the French government is significant because most Franco-Americans are raised to believe they speak an inferior form of French. Receiving government appreciation for "Le Petit Mangeur de Fleurs" confirms how the French language is understandable wherever in the world it is spoken. Franco-Americans simply speak a dialect of traditional French. Sometimes, this special dialect is called "patois".
"The professors loved the dialect in the book," says Beaupre. At one point in his visit, Beaupre was complemented by one of the French teachers for defending his native dialect. "I defend your language," said the Lyons French teacher. Beaupre responded, "For me it is more than defending the language. Rather, it is about the survival of our culture," he explained. In fact, Beaupre is respected in Biddeford for his knowledge about the Franco-American history, language and culture. Last year, Beaupre directed a community fund drive to preserve certain religious statues that represent the Franco-American heritage of St. Francis College before it became the University of New England.
"Le Petit Mangeur" is 173 pages of easy to read French. In fact, the book is wonderful recommended reading for French language students.
Beaupre grew up speaking French in Biddeford. He attended St. Dominic's High School in Lewiston where the French Brothers of the Sacred Heart taught him. He returned to Biddeford for undergraduate studies at St. Francis College in Biddeford Pool. After completing his education at St. Francis, Beaupre received a doctor of philosophy degree from Brown University, in Rhode Island. Thirty years ago he returned to St. Francis College as a French professor. As the college grew into a university, Beaupre became professor of trans-cultural health care in the humanities department, but he continues to instruct French classes as well.
"I am bilingual as well as bicultural," claims Beaupre.
"Le Petit Mangeur de Fleurs" is the book's title because it describes Beaupre's habit as a toddler to eat certain flowers in his aunt's garden. He explains how the title is a metaphore for his life long ambition to absorb art and culture.
This book received the Prix littéraire Marguerite Yourcenar 2001. It is available at Les Editions JCL.
Beaupré will be happy to answer questions about his book. Readers can contact him by writing to Norman Beaupre, Ph.D., 14 Gertrude Avenue, Biddeford, Maine 04005.
Back to Top

---
Published on November 18, 1999
Copyright 1999-2000, Portland Press Herald, Portland Maine and Juliana L'Heureux